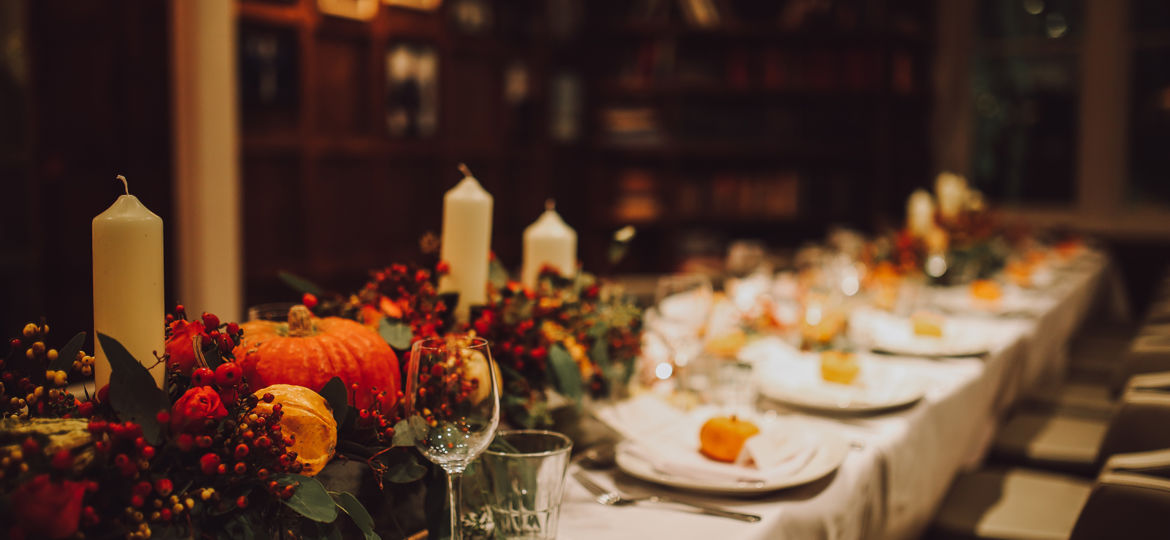 The summer of 2019 was brutally hot, reaching world record high temperatures. Thankfully the leaves are changing, and the wind is blowing, because Fall is finally rolling in! The air feels different, and people seem happy to begin the festivities. To stay current and embrace autumn, here are 10 Pinterest accounts you can use as guidance to spice up your catering business.
1. Kess Hazlewood's Autumn/winter board
Kess has done a great job of displaying the essence of Autumn aesthetics. She gives a great visual guide to what seasonal décor to apply to your catering. Imagine adding the autumn orange leaves and pumpkins to the display for your customers. It can show your dedication to attention to detail and surely be featured on Instagram pages!
2. Angela Roberts-Spinach Tiger's Autumn Food boardAngela Roberts' Autumn Food Pinterest board is characterized as "Comfort Food, Holiday Food, Food with Fall flavors, Soups, Stews", and it delivers! Angela brings creative recipes to the table that can be great seasonal additions to your catering menu. A few noteworthy seasonal recipes that can be found on this board are Pennsylvania Dutch Corn Pudding, Pumpkin Soufflé Cinnamon Ice Cream, and Boozy Spicy Autumn Risotto with Butternut Squash.
3. Better Homes & Gardens' Fall Decorating Ideas boardDue to their budget and experience, it's no wonder a Better Homes and Gardens Pinterest board made this list. They do a wonderful job of showcasing proper fall season table setups. This board is a perfect guide on how to go the extra mile on decorating catered events. Their style of autumn décor is clean, tidy, and bright. The color scheme Better Homes & Gardens is using is white, oranges, yellows, greens, and touches of red.
4. How Sweet Eats' FALL Drinks boardWhen discussing new festive catering ideas, we can't leave out the plentiful Fall-themed beverages! Sweet Eats has a great 45 drink ideas on this board, from a Smoked Maple Old Fashioned to a Pumpkin Coconut Hot Chocolate. All of which should do a great job of sprucing up an Autumn drink menu for your catering company. A bonus idea from this Pinterest board was the use of a gutted and opened pumpkin as a beer cooler by filling it with ice.
5. Mandyinthemaking's Fall Coffee Bar boardWith all other drinks out of the way, it's only right to acknowledge the greatest of all fall beverages- coffee. A cool way for your catering company to honor falls most beloved beverage would be creating an autumn-themed coffee bar from one of the examples on this Pinterest board. Some fun additions to coffee bars found on this board are miniature pumpkins, scarecrows, and matching coffee mugs and platters. And let's not forget the crème de la crop of fall coffee, the pumpkin spiced ingredients!
6. Two Sisters Crafting's Halloween Foods boardWhat's Fall without Halloween? The best spooky treats are around this time of year, and this Pinterest board has them all. Some fun Halloween dessert recipes are Rice Krispie Treat Which Fingers, Halloween Banana Mummy Pops, Trick or Treat Halloween Popcorn, and even Candy Corn Fudge. Catering customers with kids would get a great kick out of having dessert options like these on the menu and are worth considering.
7. Instructable's Halloween Decoration boardThis Pinterest board can give great ideas for clients hosting Halloween parties! Some extra creative decorations are a spider web maze, Captain Jack Sparrow's sinking ship, an eyeball lantern, skeletons climbing a wall, and a head in a jar! Now it's obvious the average catering customer won't need such involved Halloween decorations, but the Pinterest board offers plenty of easy and fun options.
Staying in front of the competitor catering companies is always at the forefront of the owner's minds. It's not too obvious to suggest that a focus on seasonal ascetics is your key to victory; however, it often makes a lasting impression. It's good then that the internet has a massive reservoir of creative and fun seasonal ideas. If you look through some of the provided Pinterest boards, you'll surely find applicable fall foods, drinks, and decorations to impressive a retain many customers this autumn.