Whether you do private dining, quick-service
orders, catering or more – we've got you Covered.
Whether you do private dining, quick-service orders, catering or more – we've got you Covered.
Cover offers a collection of powerful features, including: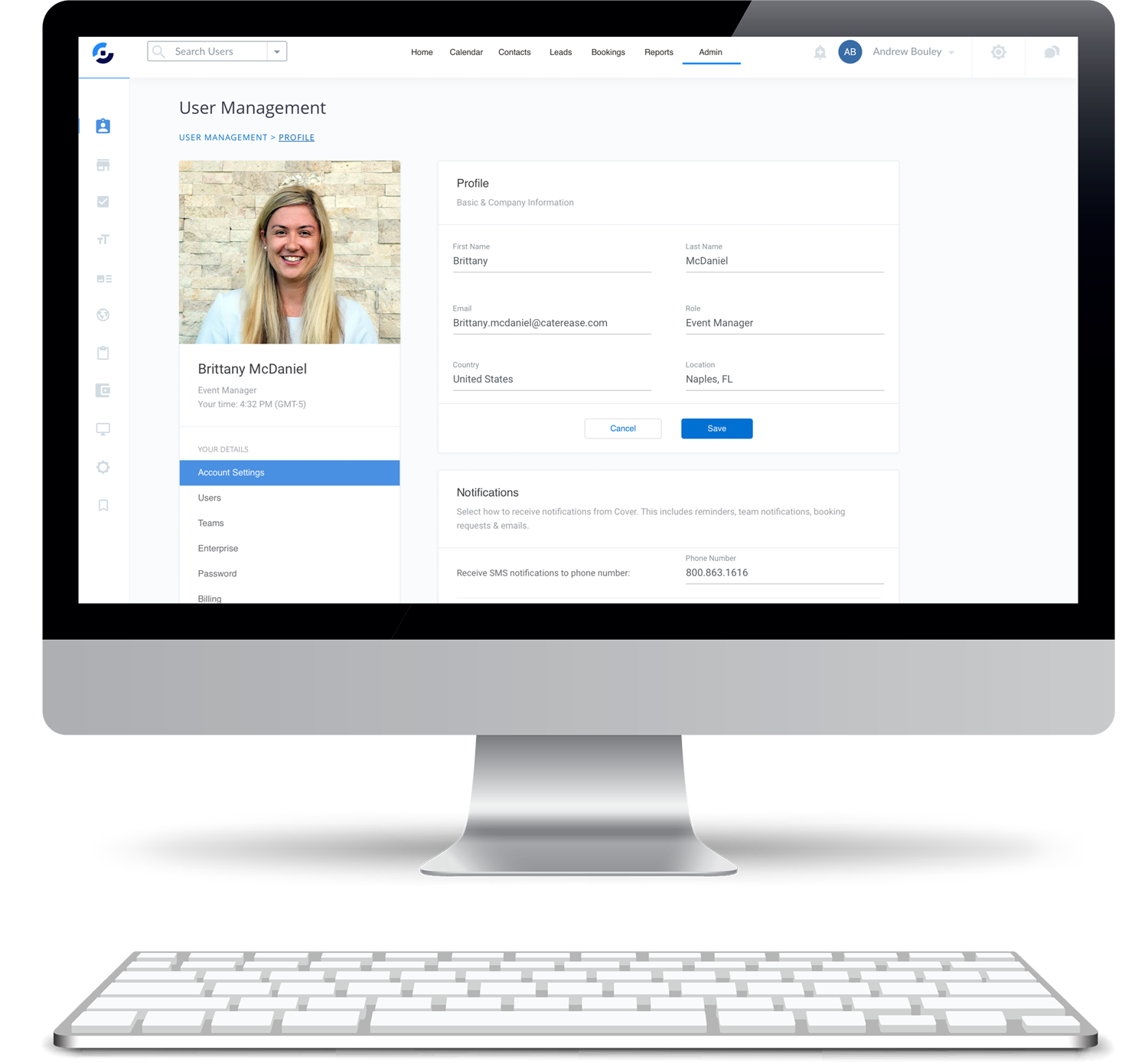 Admin 
Easy System Setup and Management
Every aspect of your Cover setup is under your control.  Build custom libraries of menus and menu items – complete with item modifiers, organizational tags and more.  Create custom quickpick list, user-defined fields, wizard rules for shift selection, room lists with conflict-checking and more – all in an attractive, user-friendly environment.
Flexible User Profiles
Establish profiles for all program users, easily setting up all details from general contact information to custom security settings.  Manage users individually or in teams, creating custom usernames and passwords and even establishing personal notification preferences.
Company or Enterprise Management
Whether you have one location or a thousand, Cover makes it easy to manage your company's profile.  Establish company-wide preferences, shared user-defined fields, default settings such as custom tax, service charge, and gratuity rates and more.  Even build and manage multiple profiles and relationships across a region or enterprise.
Calendar
Our attractive, flexible calendar tool gives you instant access to all bookings, tasks, proposals or even personal appointments – and lets you quickly add new ones with a handy, customizable wizard tool. Filter or group records in a day, week, month or agenda display – and even drag and drop records across a timeline.

Bookings
CREATE BOOKINGS EASILY WITH CUSTOM WIZARD TEMPLATES.
The handy Cover Bookings Wizard lets you design a limitless number of templates for the different types of bookings you need to create.  Perhaps you do private dining or stadium management, and room details and shifts are a big part of your process.  Perhaps you do strictly off-premise parties, and therefore need to worry about a site location.  Perhaps you do BOTH.  Design any number of custom wizards so that each booking is as streamlined and efficient as possible.
BUILD MULTIPLE EVENTS IN ONE BOOKING.
For more complex bookings, you can break them down into multiple events – perhaps a multi-day party or convention, or even a rehearsal dinner preceding a wedding reception.  Each event can have its own unique date, guest count and of course menu and venue.  And each one can be instantly included or unincluded on prints or in party totals.
SHARE DETAILS IN AN ATTRACTIVE CUSTOMER PORTAL.
Once the booking is complete, use a custom email template to share all details instantly through a powerful, attractive customer portal.  Customers can review all events they've held with you, send comments and requests directly into your Cover program and event generate prints and process payments.  Your customer will have all the access he or she needs, while you're free to focus on other business.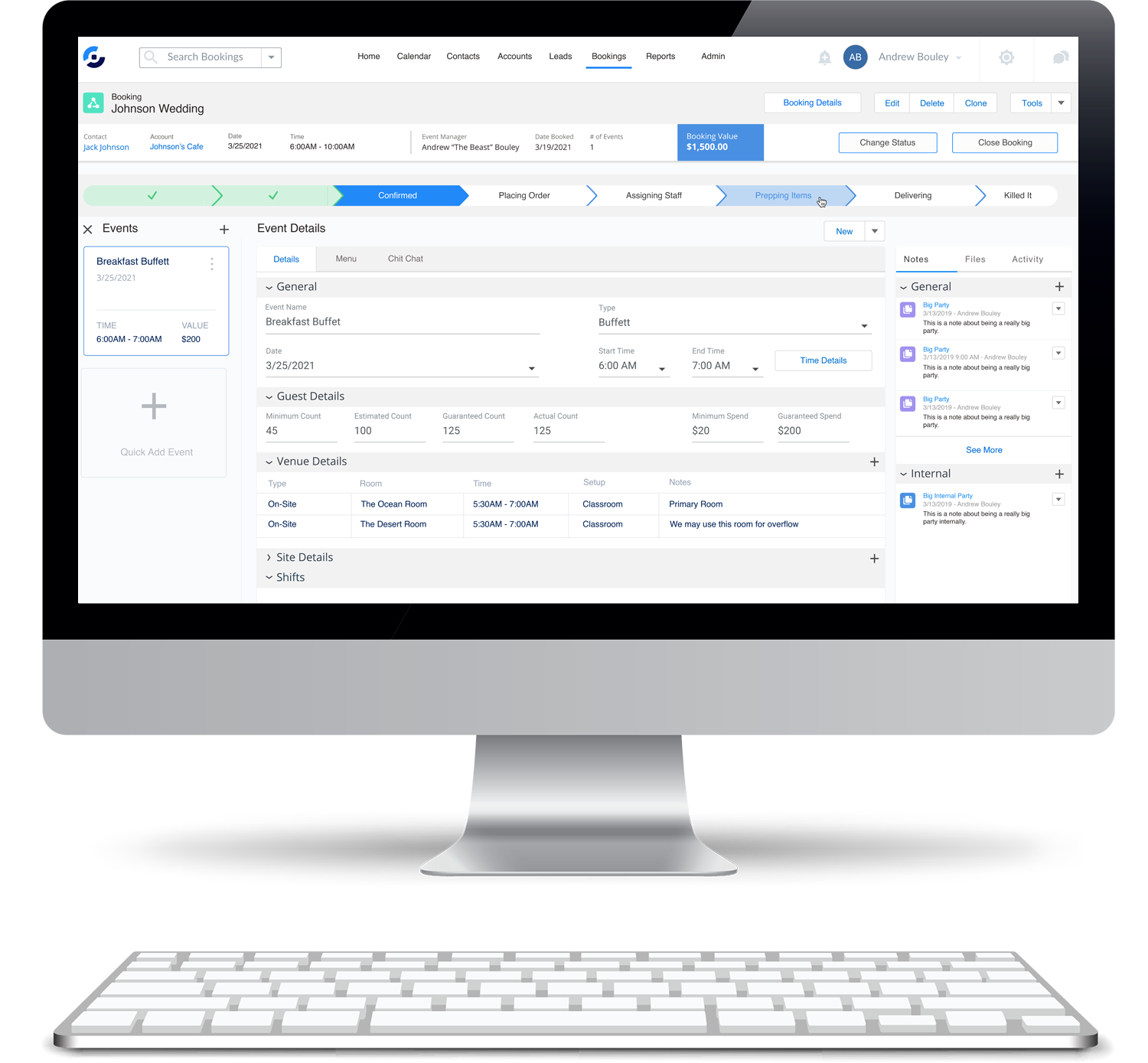 Contacts
Whether it's individual contact people or entire companies or accounts, Cover helps you manage your clients quickly and easily. Enter all pertinent details in an attractive, customizable screen – and track all important information instantly with powerful dashboards and handy detail grids that can be customized, filtered, sorted and even exported in a variety of common formats.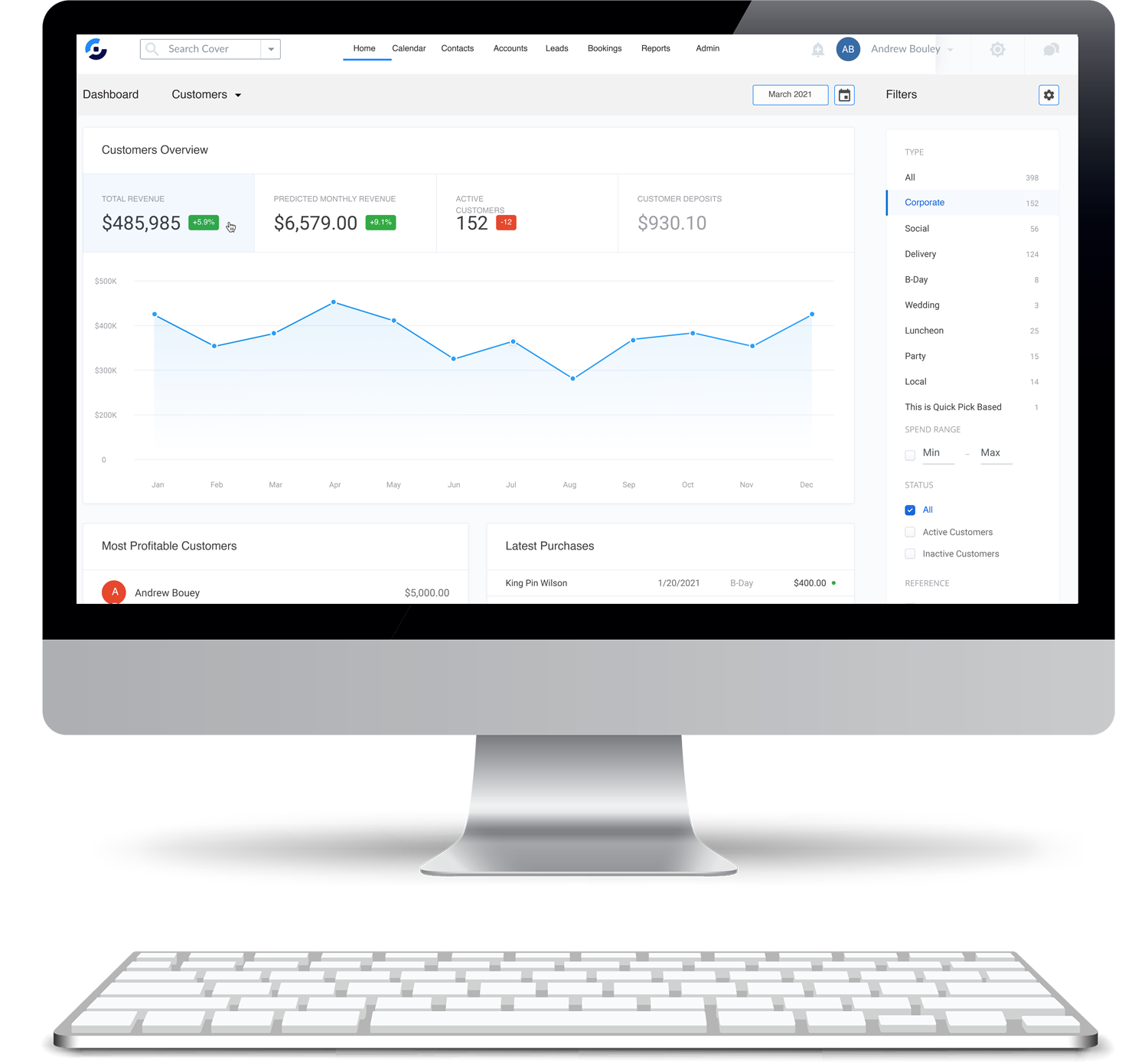 Reports
REVIEW DATA IN HANDY, FLEXIBLE DASHBOARDS.
Get an instant overview of all important information with a collection of flexible, dynamic dashboards. Filter results by a variety of custom details to zero in on exactly the answers you need, and access individual records directly from the dashboard for more specific information.
BUILD AND EXPORT CUSTOM DETAIL GRIDS.
Display all information – clients, bookings, proposals, quick-service orders and more – in fully customizable detail grids.  Choose which specific information you want to display and then sort, group, filter or even export the data – and do quick analysis with dynamic associated charts and graphs.
DESIGN ATTRACTIVE CUSTOM REPORTS.
Use the powerful Report Designer to create any custom report for any business need.  Track all information in a variety of formats – determining which specific information will be displayed, how it will be sorted, filter, grouped and more!
Leads
Easily keep track of a limitless list of prospective leads and track them through your custom sales lifecycle. Build and manage multiple proposed bookings and events for each lead, and convert them into definite business with a simple mouse click!